Terror at Weihnachten is designed to play around Christmas. Weihnachten is being terrorized by demons and it is up to your party to save the town's children before one of them is sacrificed again this year!
All new monsters and maps, challenging mysteries, dangerous tunnels that are sure to challenge even the best parties.
Order your copy today.
Learn More
Tomorrow River Games offers Dungeon Masters a variety of free resources for helping to manage your campaigns.
Learn More
We're celebrating our one-year Anniversary with a reprinting of On Ouisconsin! 
18 pages of new adventures
Full color
New monsters and challenges
Over 100 pages of adventures
Order your full-color print copy today!
A 5th Edition (5E) adventure for Dungeons and Dragons on the magical island of Sapelo. Save the Platinum Eagles if you can.
Custom monsters from the best Tomorrow River Games adventures including: hodags, Chozech, Thrakos, Abhartach and more.
15 custom cards, full color, glossy
2 random monster dice, 6-sided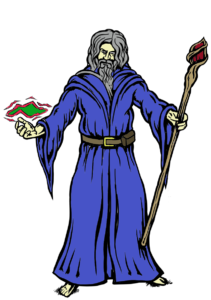 Join us
Stay current with our latest modules.